UPDATE (16. Nov. 2018):
Indisputably, volunteering for a social good project is an engaging option for serving the community in Dublin. Following our initial accessibility mapping of the footpaths in the Docklands area, a good number of people joined to the initiative of Route4U and reported nearly one hundred footpath obstacles over a month.
Based on the initial survey of the Docklands it can certainly be conveyed that the area is very well accessible for wheelchair users. Although the infrastructure is perfectly built, temporary footpath obstacles were still being reported mainly owing to the great number of construction works. These type of obstacles are very characteristic of the neighbourhood and they appear here and there from time to time so the systematic obstacle reporting from the crowd is a perfect way to keep the map constantly up to date.
What people with limited mobility fear the most is not the inaccessible paths but unpredictability. There are always working alternative routes there but in the first place you need to know in advance if something is blocked so you can avoid disappointment and frustration. Route4U maps help differently abled people to a safer,  more predictable and convenient mobility. And by contributing to the system with data uploads you are not only helping your mobility challenged fellow citizens but also your city to make smarter decisions on footpath improvements – read more about it here!
So we encourage you to volunteer, download the Route4U app and spend two – three minutes each day to upload some foodpath data.
Click here to see how to report an obstacle – it's easy as one-two-three…
——————————————-
ORIGINAL POST
This week on September 3rd 2018 we presented the Route4U apps at a Community Hub for Accessible Technology CHAT event in the National Rehabilitation Centre in Dun Laoghaire, Dublin and received great support. We announced a 1-month September campaign to improve accessibility data in Ireland and spread awareness. We are excited to be launching in Ireland and we are sure we will get a great reaction so we can make a positive impact on footpath accessibility
Route4U is in Ireland and we are ready to improve the pathways!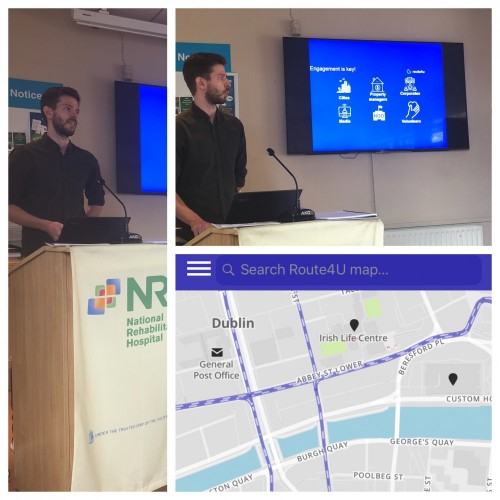 We are delighted with our the progress so far in Ireland. We have already completed survey projects in Swords, Dublin, and the Dublin Docklands. We have received the backing of Fingal County Council and Dublin City Council and are so proud to have won the SBIR Wayfinding Challenge under the SMART Dublin initiative partnered with Enterprise Ireland.
The Mayor of Fingal, Cllr Anthony Lavin said ''Any initiative which makes accessibility easier for disabled people has to be welcomed''. The Head of Corporate Affairs and Governance at Fingal County Council is urging everyone to download the app and start mapping their local area.
The app is growing worldwide, and survey projects are underway already in the UK, France, Hungary and New Zealand. We are the world's first footpath accessibility app. The App is available to download for free on iOS and Android smartphones.
Our campaign in Ireland has started and runs from the 4th September to the 4th October and we are reaching out to the people of Ireland, communities, businesses, and companies to get involved and set the ball rolling! Our success with Heineken shows how even companies can make a huge impact and really get behind a great cause.
To make the mobility easier for everyone we start first by collecting the obstacles. These are simply photographed and uploaded onto the map in 10 seconds. The app is constantly being updated with this data. Curb heights, slopes, gradients, and path widths will be measured also to allow full disclosure of the paths suitability for the app user.
Moreover, you can build up points for reporting on the map. We are seeking a nationwide effort to achieve our mission of better and safe mobility for everyone on the footpaths.
Sidewalk accessibility through obstacle mapping
On the 26th September is this year's MakeWayDay where the public will be asked to physically put stickers on obstacles in their way. The MWD label will be seen also on the Route4U App. While physical stickers are about raising awareness, reporting obstacles in our app provide instant help for local and visiting wheelchair users alike. Perfect sidewalk accessibility might never become a reality but we already have the means to at least make the necessary, up-to-date information available.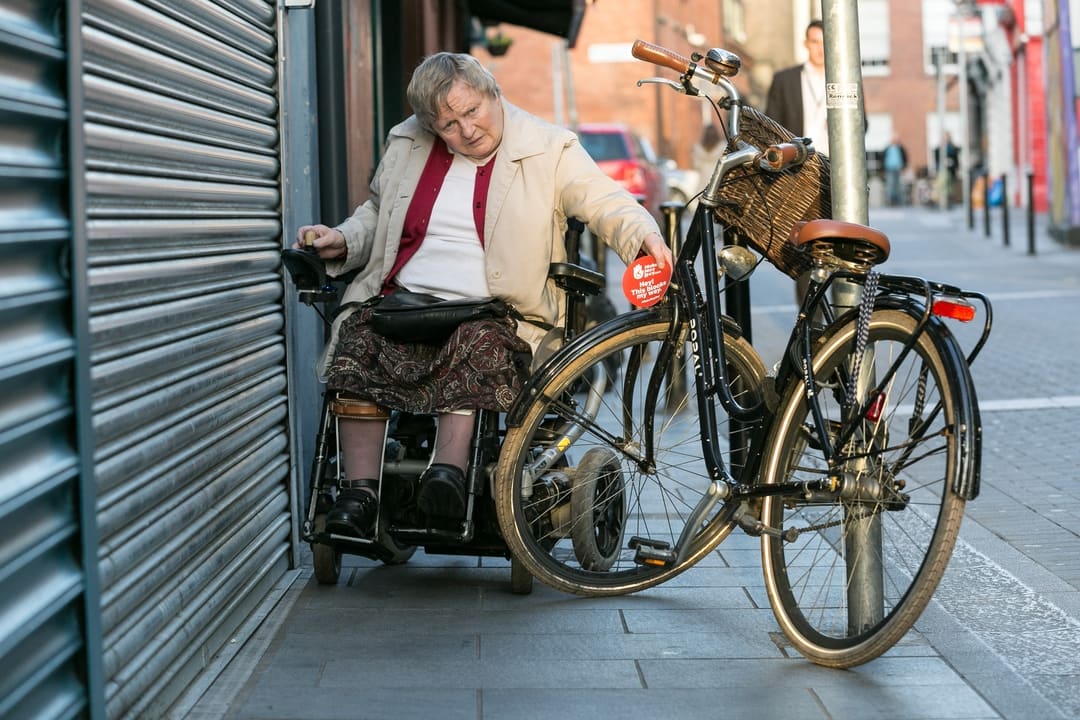 Written by Mary Ann Healy
Find us on Twitter and Facebook:
 Web: https://route4u.org
Download the Route4U app here: