Heineken Hungary was one of the very first companies to join Route4U's Brands for the accessibility programme. The firm's 120 sales representatives had joined the initiative to build Route4U's online accessibility map in order to help people with reduced mobility and raise awareness of the issue at the same time.
Route4U is the world's first sidewalk navigation tool that incorporates accessibility information of pavements, intersections and public transport services so as to provide custom made routes for wheelchair users. In the app, you can find accessibility information of specific points of interest as well such as cafés or restaurants.
The role of HEINEKEN
The company's employees took part in the programme as volunteers. They have assessed routes as well as points of interests for three months by using the Route4U app. In total, they have assessed the accessibility features of 10.000 places in Hungary.
10.000 new assessment is a huge deal for two reasons. On the one hand it showcases the potential in crowdsourced data collection on a voluntary basis. On the other hand, however, it also reveals that a big company can and is willing to take on an active role in moving important social issues forward.
The press conference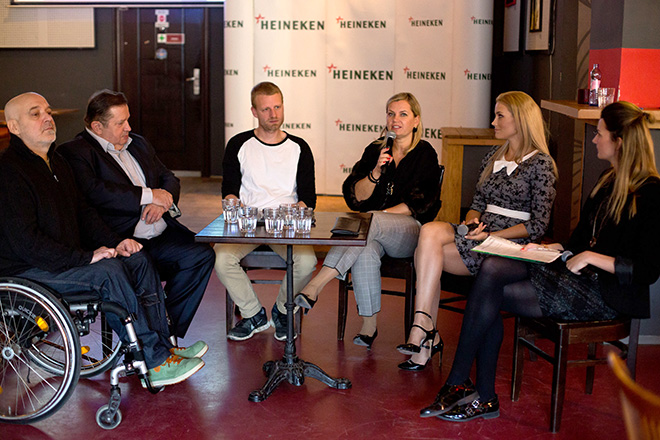 Apart from the Route4U team Edina Som-Balogh actress (and new mom), José Matthijsse head director of Heineken Hungary, Márta Pálfalvi HR director of Heineken Hungary and József Szakály leader of MEOSZ took part in the roundtable discussions. The event attracted considerable media attention.
José Matthijsse stated about the movement:
" At Heineken, we believe that it's not only important to do good to the community on the individual level, but also on a company level. That's the only way we can achieve the best possible outcome. I'm proud of our team, and it's a great feeling to work with people who use technology to help others. It's an honour to be part of the Route4u movement, and we encourage others to do so as well!"
Results

We owe a huge thank you to the employees who joined as volunteers to build the map. Of course they also receive the Route4U points that they can use up at our partners.
Join Route4U today to become a volunteer and help the community! It's a great opportunity to do good in a truly 21st century way, with just a few taps on your phone. The points you get for your efforts can be used up for treats and discounts in Hungary, and we hope to expand the opportunity to the UK and Ireland as well.
We welcome the application of companies that will help us continue what we started with Heineken!
Let's work together for a more inclusive world!
Download the Route4U app here: https://route4u.org/app.html