If you want to help the Route4U community make the world's first sidewalk navigation solution truly useful, download the iOS app first here or the Android one here.
These are the ways you can contribute:
assess places' accessibility
automatically map sidewalks and crossings
notify others about obstacles

Sometimes categorizing places' entrances or toilets is not easy, here's some help:
Places
By tapping any Place on the map, you see their accessibility info. If there is no information yet (it's gray) or if you find it incorrect you can change it's properties by tapping the pencil icon and set it according to your findings. You can also add text on relevant details at the bottom.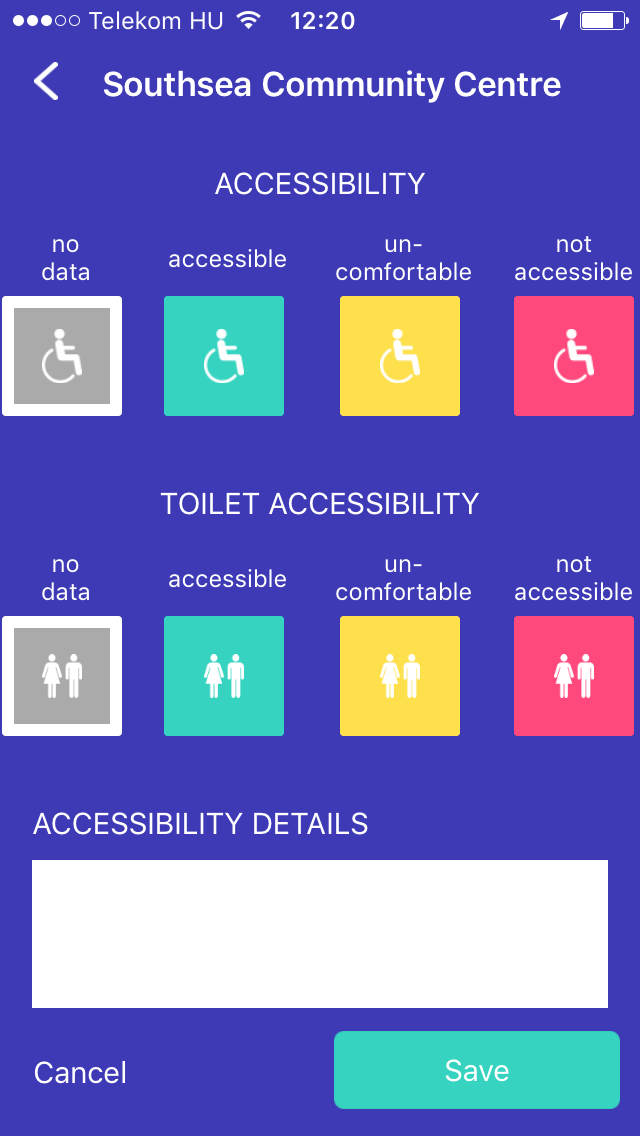 Green

entrances 

are level or the doorstep is max. 2 centimeters tall, the door is at least 120 cm wide, and there is no ramp in front of/behind the door. If assess a Place as green, be sure that there is enough space inside for wheelchair users, and that there are no stairs inside that limit movement.
---

Yellow

entrances

are inconvenient for most wheelchair users, but are still usable alone for some, and with assistance for the majority. If you find hard to decide the type of an entrance. Please leave a description, so others will know the exact characteristics. Places with mobile ramps and/or working wheelchair bells are and should be yellow in Route4U.
---

Red

entrances

are with a high doorsteps or are too narrow for most wheelchair users (<80cm) or have steep ramps leading up to them. Narrow entraces always fall into this category.
---

Green

toilets 

are big enough for an electric wheelchair user to turn around, are equipped with handrails and an alarm, door opens outside, mirror and sink are convenient to use in a wheelchair.
---

Yellow

toilets

are missing at least one of the features of Green toilets, but are still usable for some. Please always include accessibility details at the bottom!
---

Red

toilets

are either: too small, not enough space next to the toilet without handrails, the door opens inside or any combination of these.
---
Even if the entrance is accessible (

Green

) with wheelchair, there might be problems inside. These are:
Not enough space to move/turn inside with a wheelchair conveniently. If this is the case, please assess the Point of Interest as Yellow
If there are ramps inside that are possible to use alone, please assess the Point of Interest as Yellow
If there are steep ramps or stairs in the way, please assess the Point of Interest as Red
If the tables inside are too high, or there are tables that are inconvenient to use with a wheelchair, please assess the Place as Red
---
Join the community!
If all this is not enough, You can also join the fun by following our Facebook page . We regularly share information about the map and the apps (both iOS and Android) organize events and share interesting stuff about the world of accessibility.
We also created a Route4U – UK Mapping closed Facebook group where our UK-based users can share feedback about map data and the app in general. We also hope to build an active community of accessiblity enthusiasts

Want to know more about Route4U? Read our FAQ!